Chris Martin watches Pharrell and Kanye do their thing at Glasto 2015
Coldplay's lead singer, Chris Martin was spotted at the 2015 Glastonbury festival last night. He was spending time with Gwyneth Paltrow and his kids, while enjoying the 'Happy' singer, Pharrell Williams and the controversial Kanye West. Chris didn't join the 'Homecoming' rapper on stage, despite wishful rumours on Twitter during the concert. Comedian, Lee Nelson decided to join him instead!
https://www.youtube.com/watch?v=zNYKzpqAM_s
But we have a few snaps to show you, of the main man: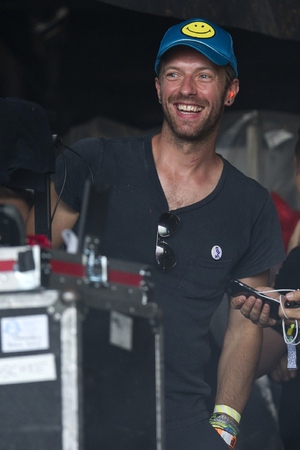 Here's Chris with Formula 1 man, Lewis Hamilton:
——
The Coldplaying app
There's now an easy way to post on our forums and interact with a world full of Coldplay fans!
For help downloading the app or to report any issues, please tweet us @coldplaying
https://www.youtube.com/watch?v=I0c6gPMlKbY
IPHONE/IPAD
ANDROID
FURTHER INFO
If you have the app already, please introduce yourself on the 'Say Hello!' section and remember to rate us on the Google Play/iTunes store :)
Coldplay Live/Shows/Concerts/Setlists/Gigs 2015
There are no Coldplay concerts scheduled so far. Coldplay will headline a 'Why Not People?' show, believed to be sometime this year.
For 2015 live rumours & gossip, please check out our rumours section.
Upcoming Coldplay Events
No upcoming events within the next 30 days
Fansites
Check out our Coldplaying accounts on Facebook, Twitter and Instagram! (ENG)
Other fellow fansites, who we recommended to follow:
(Links to their Twitter/Facebook page)
Coldplayzone (IT)
The Atlas Project (ENG)
ColdplayCorner (FR)
Coldplace EU (PL)
Coldplay Turkey (TR)
Chris Martin for Freedom Of Exeter Award (ENG)