Coldplay in India a real possibility as New Delhi goes wild for Chris Martin!
The past 24 hours have been exuberant for many Coldplayers, as news broke of Chris Martin performing at a Cafe/Bar in New Delhi, India! Not only did footage of the intimate solo performance appear online but rumours of Coldplay appearing in India for the first time, were rife. It's believed that the British band could choose the Indian capital as a venue for their next tour. Here's a summary of everything we know, in a nutshell:
The Coldplay frontman performed at the Summerhouse Café in New Delhi's Hauz Khas Village (on Wednesday 1st July)
Spur of the moment (Not planned) acoustic session from Chris, in which 'Viva La Vida', 'Fix You' & 'Paradise' were played.
Chris borrowed the guitar used in the performance from Vishal Dadlani, a famous composer within the Indian music industry.
Coldplay's lead singer had been in India since Monday and is due to return on Saturday.
The nature of Chris' visit was a goodwill trip on global poverty issues with The Global Poverty Project and Global Citizen
Indian actress and model, Freida Pinto (Slumdog millionaire) accompanied Chris around New Delhi, while they held meetings with key government leaders on innovative projects.
Company who filmed the brief show reported Chris' appearance as a 'scouting trip' for a future Coldplay show in India. This was later retracted after learning of the singer's charity mission.
Multiple sources from the Summerhouse Cafe, which state Coldplay will visit India for the first time at the end of 2015!
However, no confirmation of Coldplay's India debut. It's rumoured that the band will play in New Delhi as part of a new tour or a festival.
The hosts at the cafe are organisers of the NH7 festival in Delhi, scheduled for 27-28th November.
Chris Martin shows his fatherly kindness
This was the press release, which explained the nature of Mr Martin's visit to India: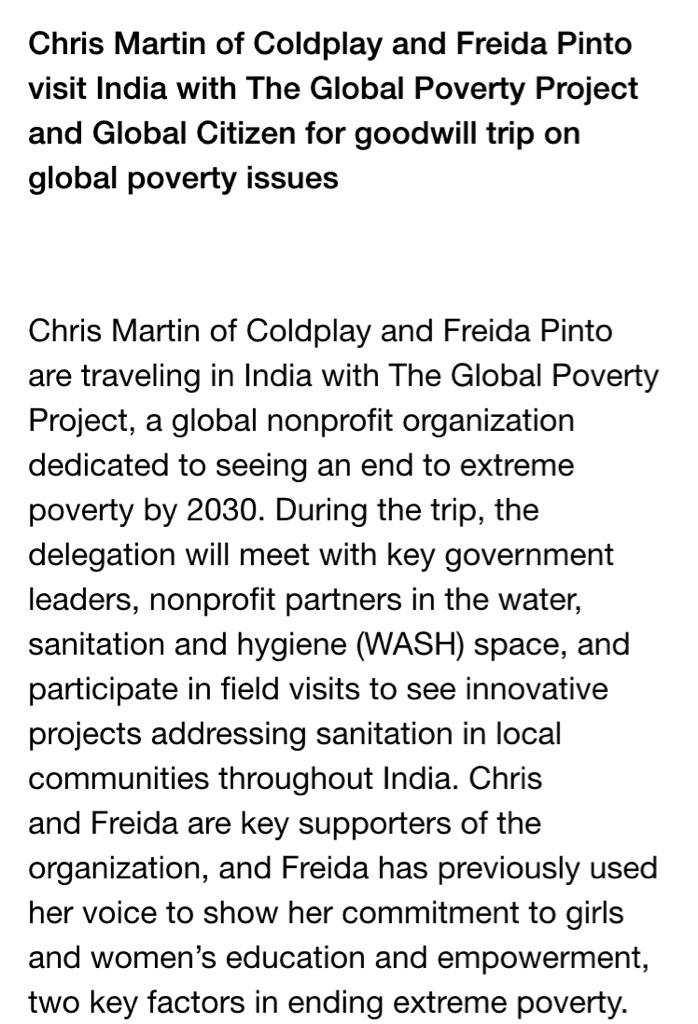 The inspirational singer visited schools during his trip (so far), including this lovely group of children, which he sung and danced with! Courtesy of Oxfam India:
Now altogether, A big… awwwww!!
The surreal performance
Onto the shock performance, which left Indian fans completely bewildered in the Summerhouse Cafe. As mentioned, 'Viva La Vida', 'Fix You' & 'Paradise' were the trio of songs played inside the intimate room. Video company, 'a little anarky' filmed the 10 minute performance. Here's the final edit for your pleasure, on Youtube:
https://www.youtube.com/watch?v=_AeV92QfTFE&feature=youtu.be&app=desktop
First ever Coldplay concert in India?
Chris Martin announced, at the start of his surprise performance in New Delhi that it's the first time a Coldplay song has been played live in India but will he introduce the whole band to India in the near future? Coldplay's ambition to perform in unchartered territories across the world makes India a likely place for Coldplay to visit for their upcoming tour.
We received multiple sources, from the Summerhouse Cafe, which state Coldplay will perform in India, at the end of the year but there is no confirmation. We believe the NH7 festival in New Dheli is their most likely destination, should a concert materialize and the hosts of the Summerhouse Cafe 'spur of the moment' show, are the organisers of the festival. In addition, it was reported by @alittleanarky that Chris was 'scouting' for a future Coldplay show but that statement was later retracted.
We'll only know of a Coldplay concert in India for sure when the band announce future tour dates. The other country which is likely to host the British four piece is Brazil. Rumours are flying in left, right and center. The one concrete source comes from the president of the Gremio arena in Porto Algere. In an interview with the man in question, Eduardo Peña, he said they 'are in advanced negotiations with Coldplay'. Click here to view all of the current rumours.
Gallery
View a compilation of popular pics from Chris' latest charity efforts and the 'mini' show, below:
A huge thanks to everyone who posted the above on the forums and on Twitter!
We'll be posting more reactions soon, including a chat we've been having with a film maker, who was privileged enough to be at the Summerhouse Cafe, while Chris jammed.
——
The Coldplaying app
There's now an easy way to post on our forums and interact with a world full of Coldplay fans!
For help downloading the app or to report any issues, please tweet us @coldplaying
https://www.youtube.com/watch?v=I0c6gPMlKbY
IPHONE/IPAD
ANDROID
FURTHER INFO
If you have the app already, please introduce yourself on the 'Say Hello!' section and remember to rate us on the Google Play/iTunes store :)
Coldplay Live/Shows/Concerts/Setlists/Gigs 2015
There are no Coldplay concerts scheduled so far. Coldplay will headline a 'Why Not People?' show, believed to be sometime this year.
For 2015 live rumours & gossip, please check out our rumours section.
Upcoming Coldplay Events
No upcoming events within the next 30 days
Fansites
Check out our Coldplaying accounts on Facebook, Twitter and Instagram! (ENG)
Other fellow fansites, who we recommended to follow:
(Links to their Twitter/Facebook page)
Coldplayzone (IT)
The Atlas Project (ENG)
ColdplayCorner (FR)
Coldplace EU (PL)
Coldplay Turkey (TR)
Chris Martin for Freedom Of Exeter Award (ENG)