A month full of stars - April.
4th part to the 12 months of 2014 review series. (January, February, March)
We were (im)patiently waiting for the release of the Magic music video and for more teasers of Coldplay's new album, Ghost Stories, which was due for release on May 19th. Coldplayers were especially keen on A Sky Full Of Stars, which received rave reviews from the secret filming in March.
A Sky Full Of Stars confirmed as 2nd single

The extremely hyped 8th song off Ghost Stories was already confirmed as the next single, at the start of April. Magic didn't have as meteoric impact on the charts as first single usually has, possibly because it wasn't Coldplay's signature, highly paced intro to a new era. The first single was still a moderate hit none the less and reached the top 20 in the majority of worldwide charts and was increasingly being streamed on Spotify and other streaming platforms.
The apparent single cover art of an owl was tweeted by a reliable source, Warner Music South Africa but Coldplay fans on our messageboards questioned the authenticity of the image and the inconsistency with the Magic and Ghost Stories artwork
Rumours suggested the 'uplifting' song was set for release on May 5th, a week earlier than Amazon originally penned.
Magical video for the 1st single
The wait was over for the Magic video. 7th April saw the premiere of the black and white magic show on Coldplay's official Youtube channel :
At 3pm UK time, the official video for 'Magic' was released by Coldplay as predicted by Warned Bros Poland on Twitter a day before. The video for 'Magic' is in black and white with a classic silent film theme.
The video features 3 main characters :
Cecile, a beautiful young magicienne.
Claude, her moustachioed husband, the famous but drunk magician
Christophe, her assistant (the name sounds quite familiar!)
Chris Martin played the split roles of good and evil, as Christophe and Claude. Actress, Zhang Ziyi performed the role of Cecile.
That was not all. An extended, colour version of Magic was on the way!
Chris Martin inducts Genesis frontman, Peter Gabriel into Hall of Fame!
Chris Martin remained a busy body outside of Coldplay's activities as he inducted Peter Gabriel, the lead singer of the historic progressive rock band, Genesis during the Rock n Roll Hall of Fame ceremony.
Chris continued being his usual funny self, appearing to be reading from the book of Genesis while he read out; "An angel of the lord descended and appeared before Phil the Collins……and Phil the Collins said unto him, who are you O angel?" as Chris paused for a second, deep in character and relishing the speech before finishing with "I am Gabriel".
Intimate 'mini tour' announced!
Coldplay revealed their live dates for the Ghost Stories era as they opted for tiny venues for the upcoming set of shows instead of the sweltering atmosphere of their previous stadium shows during the Mylo Xylotour. The original dates for the intimate shows can be seen below:
25 April – E-Werk, Cologne, Germany
05 May – Beacon Theatre, New York, USA
19 May – Royce Hall, Los Angeles, USA
28 May – Casino de Paris, Paris, France
12 June – Dome City Hall, Tokyo, Japan
01 July – Royal Albert Hall, London, UK
Midnight available to download, with official remix
Ghost Stories teaser track, Midnight was not available to download upon its debut in February. On April 21st, the 5th track on Coldplay's new album was available to download on iTunes and an impressive remix of Midnight, by veteran DJ, Giorgio Moroder :
https://www.youtube.com/watch?v=3DNcEFV1EE0
Coldplay, for a short while, conquered the iTunes charts worldwide with Midnight. The electronic, Jon Hopkins inspired tune reached up to #2 in many countries. This was partly down to Midnight being a 'instant grat' track upon pre-ordering Coldplay's new album.
Oceans revealed at BBC Live Lounge
In the midst of a very busy week for the band, Wednesday 23rd April seemed like any ordinary day but it was not, as the band visited the BBC Radio 1 studios and performed their current single at the time, Magic. Ok, nothing out of the ordinary there but hang on a moment, Jonny's guitar started ringing out in a sequence similar to the way he performs Spies, while Will's drum pad belts out a submarine sonar effect. It was a new Coldplay song the band decided to debut at the intimate studios and it sounded very atmospheric and equally impressive.
Coldplayers were automatically enchanted by Oceans, compared it to their earlier material from debut album, Parachutes, especially with comparisons of Spies.
Double header in Germany

Coldplay traveled to Germany for back to back shows in Baden-Baden and Cologne as they held a 'proper' Ghost Stories concert for the first ever time!
The big show many German fans were anticipation was their Cologne concert and the opener of choice continued to be Always In My Head as the beautiful intro sweeped across the compact stage of E-Werk. There were no surprises during the main set, which was aired on a radio stream for the many fans listening online. The radio stream was cut off after 11 songs, just before the band's encore was due.
This was on purpose, as Coldplay were about to debut their ridiculously anticipated track, A Sky Full Of Stars for the first time in a public concert. It was such a heavily guarded secret that Chris pleaded with the audience for the performance not to be recorded. This was acknowledged largely but a low quality recording did appear online, causing early comparisons with Rihanna's We Found Love. 
View the gallery of Cologne below.
[nggallery id=1020]
Chris Martin's heartfelt interview with Zane Lowe as new Ghost Stories songs are unveiled for the first time!
Coldplay's frontman never went into too much detail about the personal lyrics behind their then imminent album, Ghost Stories. That was until his pal and Radio 1 DJ, Zane Lowe secured a man to man chat, broadcast on the national radio station in the UK.
This was how Chris Martin himself summed up Ghost Stories:
The idea of "Ghost Stories" for me was how do you let the things that happened to you in the past, your ghosts, how do you let them affect your present and your future because there was a time when I was feeling they were going to drag me down, ruin my life and of those around me
It was an exciting time to be a Coldplay fan, as new songs were given their first preview on the radio station, with second single A Sky Full Of Stars, featuring Swedish DJ, Avicii as the producer being one of them. We had the sense that the much anticipated EDM inspired song was about to drop....
google_ad_client = "ca-pub-2178348667918002";
google_ad_slot = "6330442176";
google_ad_width = 336;
google_ad_height = 280;
// ]]>
// ]]>
A Sky Full Of Stars released worldwide & Jools Holland performance
That feeling proved to be correct as A Sky Full Of Stars was put out into the world, with generally a positive reaction. The involvement of Avicii and the EDM influence did prompt a mixed reaction in that regard. Chris was quick to show his enthusiasm of the track, when the band returned to the Jools Holland show and closed with their first televised showing of A Sky Full Of Stars .
Album lyrics hunt!
The cap off an eventful (to say the least!) April, where there never was a dull moment, Coldplay's official Twitter page revealed clues to a fan lyrics hunt, where the lyric sheets of each Ghost Stories song were hidden in libraries across the world. A library in Mexico City contained a set of lyrics for Magic :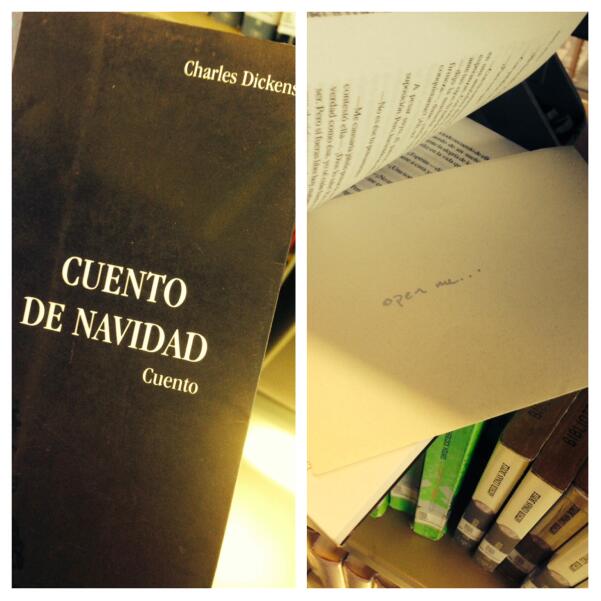 You can view the lyrics hunt as it happened, here.